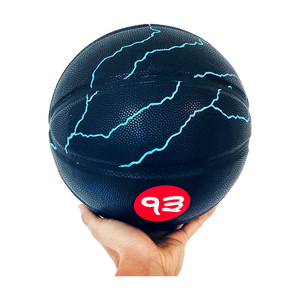 Indoor/Outdoor 29.5" regulation size
Premium composite material for soft touch
Wide channel design for instant recognition
100% nylon windings for max structural integrity
Collectible item
"Use this basketball for play or for show. I have two -  one on my office shelf and the other I keep on me. While sitting on the couch watching Netflix, I practice my shooting form. Recording a Spice Rack Boyz podcast? I do fingertip drills. Remember,  drillers are killers! Get this basketball for you or for your kid; get this basketball for the next generation of South Asian ballers. Like I have said many times before, I wanna see some Punjabi Jeremy Lin's - ivy educated making it to the league. Pre-Order now. "
THIS IS A PRE-ORDER ITEM; PLEASE ALLOW 4-6 WEEKS FOR FULFILLMENT. IF YOU WOULD LIKE THIS ITEM IN TIME FOR X-MAS PLEASE EMAIL SECTORTHIRTEEN@GMAIL.COM AND WE WILL TRY TO EXPEDITE.